Ushuaïa's last big fiesta in 2014 is set to happen on Saturday 4th October. As always for Ushuaïa's opening and closings, the musical direction takes an underground, techo turn, in contrast to most of the venue's weekly schedule. It's always a great opportunity to show Ushuaïa's diversity, and for the 2014 closing they've taken a bold venture and nabbed Ibiza's techno don, usually found at Amnesia Terrace at 9am, Marco Carola himself. Carola will be playing "all day long", joined only by ANTS resident and Spanish island favourite Andrea Oliva. This closing is shaping up to be something very different for Ushuaïa that is going to be talked about for a while, so don't miss out!
The party starts at 2pm and goes well into the night - forget about the midnight curfew for this one, the speakers normally only turn silent at about 4am at the Ushuaïa Closing Party. 
Standard Ticket - entry anytime - 60€
Venue: Ushuaïa, Playa d'en Bossa, Ibiza
Latest news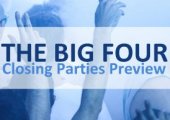 Privilege - Ushuaïa - Amnesia - Space. Friday night till Monday morning nonstop!
3 years ago
The luxury beach hotel joins forces with Luciano and friends one last time to close in style.
4 years ago
---
Book online with Spotlight
---