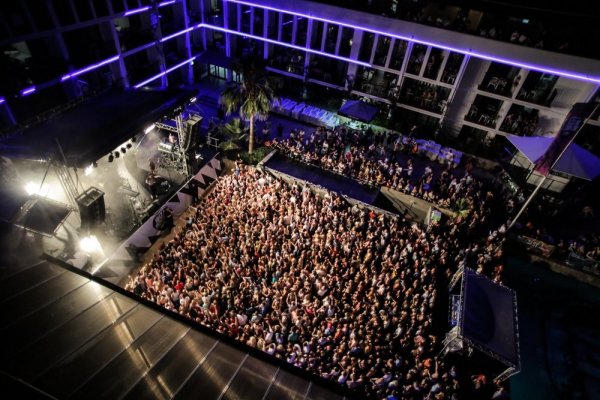 Buy a ticket for Ibiza Rocks and get free entry to the 'Ibiza Rocks After Show' at Es Paradis!
The Ibiza Rocks story started in the backroom of Manumission, moving to the Ibiza Rocks Bar - formerly called the Bar M - in San Antonio back in 2005. Hosting a variety of quality live acts over three years, the Ibiza Rocks Hotel was launched in 2008 and 6 years later they continue to challenge the soundscape of the island.
Ibiza Rocks promises 2014 will build on the previous 8 seasons as they celebrate their 9th Birthday and welcome 16 weeks of quality live music to the island. People often say that 'guitar music' is dead but the team behind Ibiza Rocks have long battled to challenge this theory, and with so many years of experience behind them there isn't a soul on this island that doesn't believe them.
There is a hunger for live music on Ibiza, from the younger crowd who love Chase & Status, Jake Bugg and the like, to the more seasoned music fans who were treated to some of the greatest nights of music over the last few years courtesy of New Order, Foals, Chic etc - proof that there is much more to this island than superstar DJs and monster clubs. Ibiza Rocks ensure all bases are covered, whether it's indie, folk, rock, urban or electronic, a Wednesday night spent in front of that famous stage, next to the pool and under the stars is guaranteed to make your holiday one to remember. 
The fresh faced and hugely talented Jake Bugg opened proceedings at Ibiza Rocks in 2013, proving a hard act to follow for this year. However, the family band of HAIM will boldly step up to the plate for the opening on the 4th June, whilst the ever popular indie/rock group The 1975 take the headline slot the following week. Further acts to have been announced include Lily Allen's Ibiza debut, Ed Sheeran, Tini Tempah, Madness, Bombay Bicycle Club, NAS and his 20 Years of Illmatic Tour, Kaiser Chiefs back for their fourth gig and many more. The lineup is still to be completed, watch this space. 
Previous seasons have seen the best of emerging and established artists in the worlds of rock, dance, pop and urban, including Kasabian, Kaiser Chiefs, Arctic Monkeys, Keane, Dizzee Rascal, Chic, Beady Eye and Ellie Goulding - showing the pulling power the brand has to attract some of the finest artists in the music sphere to Ibiza.
Ibiza Rocks - The sound of a new generation. Every Wednesday from 4th June to 17th September.
Go VIP: Buy VIP Balcony access tickets, starting from 20 EUR extra per person. (Add an Ibiza Rocks ticket to your basket and choose the VIP option).
Complete your Ibiza Rocks experience and join Ibiza Rocks The Boat on Wednesdays and Fridays before the gigs!
Parties
Ibiza Rocks

Wed 18 Jun 19:30 - 23:59

Ibiza Rocks

Wed 25 Jun 19:30 - 23:59

Ibiza Rocks

Wed 02 Jul 19:30 - 23:59

Ibiza Rocks

Wed 09 Jul 19:30 - 23:59

Ibiza Rocks

Wed 16 Jul 19:30 - 23:59

Ibiza Rocks 9th Birthday Party

Wed 23 Jul 19:30 - 23:59

Ibiza Rocks

Wed 30 Jul 19:30 - 23:59

Ibiza Rocks

Wed 06 Aug 19:30 - 23:59

Ibiza Rocks

Wed 13 Aug 19:30 - 23:59

Ibiza Rocks

Wed 20 Aug 19:30 - 23:59

Ibiza Rocks

Wed 27 Aug 19:30 - 23:59

Ibiza Rocks

Wed 03 Sep 19:30 - 23:59

Ibiza Rocks Closing Party

Wed 17 Sep 19:30 - 23:59
Latest news
Pages