As one of the most treasured parts of Ibiza, Café del Mar opened its doors in 1980 for its first summer of music, sunset and fun. Together with the beautiful views over the Mediterranean sea the original sunset bar began by serving tempting cocktails and favourite tipples to its crowds. 33 years down the line and Café del Mar is still serving up icy cold ones for all, with the addition of a tiered section reaching to the back of the bar, which has extra comfy nooks and serves everything from sushi to pizza. There is a minimum spend for this section and you'll need to book in advance (+34 622 062 855 or send an email to vip@cafedelmaribiza.info).
In recent years Café del Mar has been joined by various other sunset bars, lounges and restaurants; Mambo, Savannah, Kanya and Mint to name a few. However the bar which is still at the forefront of everyone's mind when thinking of Ibiza's famous sunset strip is the one and only Café del Mar. Built in 1980 and designed by well known Catalan architect Lluis Géell the bar adopts the look of a yacht with sail like coverings which house a seating area and beautiful bar from which an array of classy drinks are served.
The idea is a simple one, you sit by the shores of the bay of Caló des Moro in San Antonio and admire the stunning sunsets to a backdrop of ambient and eclectic music provided by the DJ in the bar. Café del Mar is now hugely famous around the world for its chill-out compilation albums which have been released annually since 1994, pioneering the chill-out genre at the time of the first release. You can order each of these albums online through Amazon. They make excellent presents and will grace any CD collection.
Over three decades later the bar is still attracting a strong crowd and remains one of Ibiza's top tourist spots. The simplicity of the venue and the pleasure that everyone takes in the perfect combination of scenery, beautiful weather and the wonderfully chilled music, makes every sunset a special one. There have since been many imitators, but only one true Café del Mar.
In 2014 Cafe Del Mar adds official club pre-parties to it's swolled deck of draw cards, hosting a weekly line-up worthy of its reputation... 
Tuesday Pre Party:
Flower Power (Pacha)
Thursday Pre Party:
Cream (Amnesia)
Fridays Pre Party:
Music On (Amnesia)
Saturday Pre Party:
Hed Kandi (Es Paradis)
Find out more...
Latest news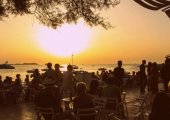 Start your Neon Night with a sunset...
2 years ago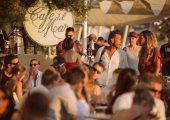 ...with Ferry Corsten and Markus Schulz playing b2b this Sunday!
2 years ago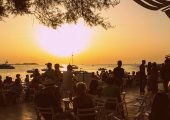 When you go down to the beach today...
2 years ago