Situated just off the San Jose road on the main route to Cala Conta, this long-established restaurant is still striving hard to delight and amaze its customers with its grilled meat dishes and original take on what it does. It's a place I had driven past on numerous occasions wanting to go in, wandering what lays inside. From the outside it's quite deceptive as when you wander inside you eventually arrive at what seems like a secret garden, almost your own special world. It has an attractive water feature, pretty plants and flowers and trellising everywhere to give you enough privacy but not totally separate from what's going on around you. It's like a little haven of calm, that even when full (and it is a lot) you'll be struck on how the atmosphere remains one of delightful relaxation.
This place is owners' Marc and Elena's second venue on the island, having eventually sold their first place to concentrate on this one.
They offer a vast selection of meats, all expertly cooked on the specially made Argentinian barbecue that adds lots of smokey flavour. There's a lot to choose from with Ibérico pork steaks or secreto; Texas-style ribs, lamb chops and kebabs; crispy chicken thighs or duck breast with orange sauce and Argentinian cuts of steaks, such as entraña and tiras. There is also a platter of grilled mixed meat for the very hungry and the restaurant's own recipe chimichurri sauce is a great partner for all these grilled delights.
---
Cleverly put together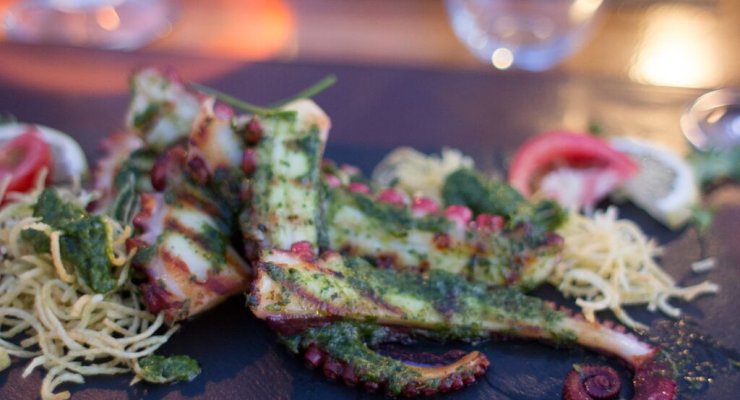 The restaurant serves some fish and seafood on the menu and there are fish dishes in the specials selection, so do check out what they are on the day. The celebrated German sausages are popular and come from the German butcher in Santa Eulalia: they come as white, red or cheese-stuffed sausages in half-metre sizes, and you can either have one or two if you're really hungry. In summer the most popular space is the garden area. It is recommended that you book ahead for this as walk-ins might have a wait, though they will try to accommodate you.
We went through each dish one by one, sharing everything. We opted for a starter off the specials board: deep-fried prawns with a wasabi mayonnaise, ten of them in total, long, juicy and cooked just right with the wasabi providing not too much kick, not too little. Then we had a dish from the mains menu of grilled octopus that was very cleverly put together, served with a homemade mojo verde, typical of the Canary Islands and very finely cut straw fries. The mojo comprises lots of coriander with parsley, avocado for creaminess and a touch of cumin. The trick is to have a bit of each of the dish's constituent parts in one forkful, as together they make a smooth symphony of flavours.
---
Smokey grilled meats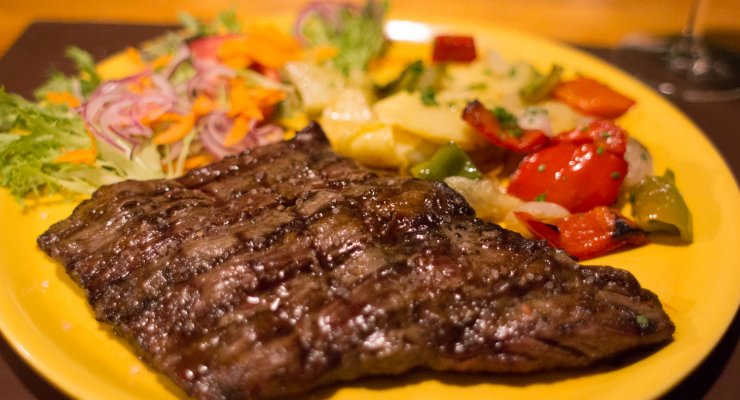 Then another special to complete the mains was a Wagyu beef entraña , and if you haven't tried this Japanese breed, here's a good place to sample it with that grill adding even more flavour to the massive slice of steak we were presented with.. The sprinkling of salt it's seasoned with is all this tasty meat requires since the flavour punch it packs needs little embellishing. It comes with grilled vegetables, salad and some seriously sexy spuds.
We were pretty full after our mains, but had to try desserts, which are presented to you on a big tray for you to see what you're getting. We chose an apple strudel that was very well made, with a ring of perfectly soft pastry holding together lots of coarsely chopped apple and plump raisins, flavoured with what I think was a little rum. The Banoffi pie was unlike the ones you will have tried as this was supremely light in texture and made with mascarpone, still though with the trademark caramel and banana sweetness that we all love.
Unsurprisingly the restaurant has built a great reputation with all who come; the size and quality of what's on your plate represents great value for what you pay. There's a good selection of food on offer, some excellent wines and 80 different beers from all over the world. The place is very family friendly too and will provide you with special options for children on request. There's a lot to this place and instead of driving by as I used to, I'd suggest calling ahead, driving and then diving right on in.
---
Quick Facts
What? Chimichurri Restaurant
Where? Carretera de Cala Bassa and Cala Conta
When? Dinner: Every day 7pm to 12pm (Closed on Tuesday evenings)
Lunch: Buffet served every day between 1pm to 4pm
Why? It's great value for the quality of the produce, the service is top notch and its slight quirkiness is a refreshing change
Average spend per head? €23 for a starter and main course
Veggie Options? There's a great grilled platter of veg served with a Romescu sauce plus excellent salads
Disabled Facilities? No disabled toilets but the toilet doors are wider than normal
Top tips? Book ahead for sure and try a bit of everything – it's all nicely done
Room for Improvement? Maybe a bigger sign for the restaurant, because you wouldn't want to miss this place
---
WORDS | Julian Heathcote PHOTOS | Katharine Uhlig