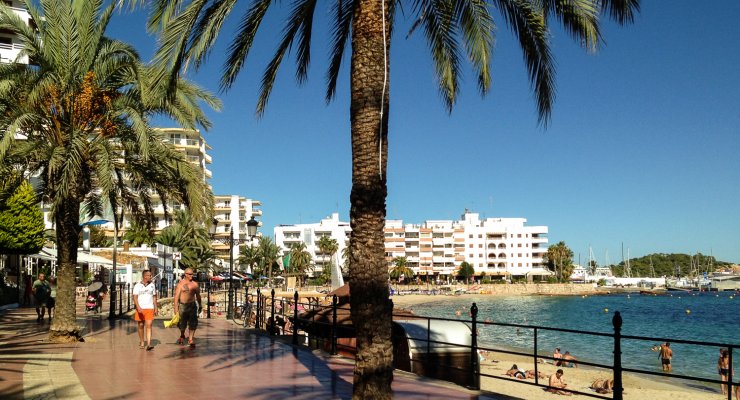 The promenade running down the length of Santa Eulalia's pristine, blue-flagged beach is fringed with palm trees, benches, fountains and a wonderful profusion of vibrant flower-beds, lovingly tended all year round.
Its fine white sand and crystal-clear shallow waters are perfect for swimming and there's a great selection of Ibiza beach bars and restaurants hugging the coastline. The town centre is small, pretty and compact and its charming, narrow, white-washed lanes run behind and parallel to the beach itself.
The thing that strikes you straight away is how quiet it is. Despite the beach being quite full during the summer with sunbeds and umbrellas doing a roaring trade, you can almost hear a pin drop. Life slows right down in Santa Eulalia, dear reader.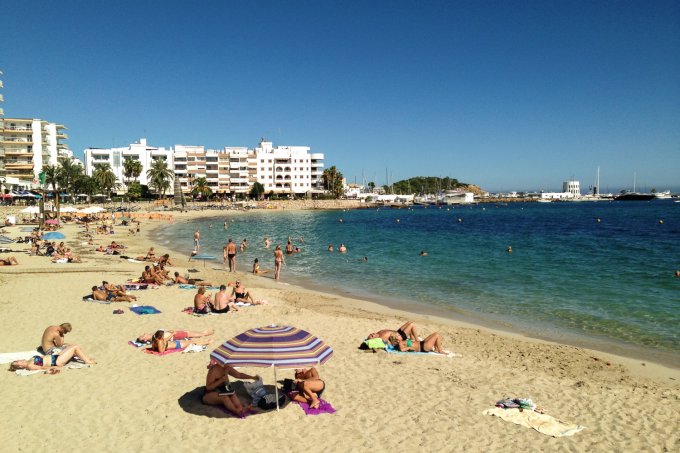 Popular with the more mature visitor who really would prefer to avoid the more exuberant side of Ibiza but also wants to be close to plenty of shops and excellent restaurants, the emphasis (rather delightfully) is on Relaxation. Yes, with a capital 'R!'
Starting at the picturesque, southern end of the beach where the river meets the sea, the shore is wide and there's plenty of space for sunbathing, even during the middle of august. This part of the beach is popular with the locals, with Café Insula, a completely unpretentious Spanish bar on the corner next to Mariners Bar serving up some of the best typical Ibicenco dishes in the area. Ask about their specials! Even better, make like a local and sit sipping a carajillo over ice, whilst reading the paper (a shot of espresso coffee with a shot of your fav alcohol - mine's Baileys, mmm!)
Stolling along towards the harbour you'll pass by a relatively new, Italian ice-cream parlour, La Alchemista recognisable by its brightly coloured, funky location on the corner a little before the fountain. Words cannot describe the quality of this handed-down-the-generations, homemade ice-cream. We had the hazelnut-choc and the mango. O.M.G.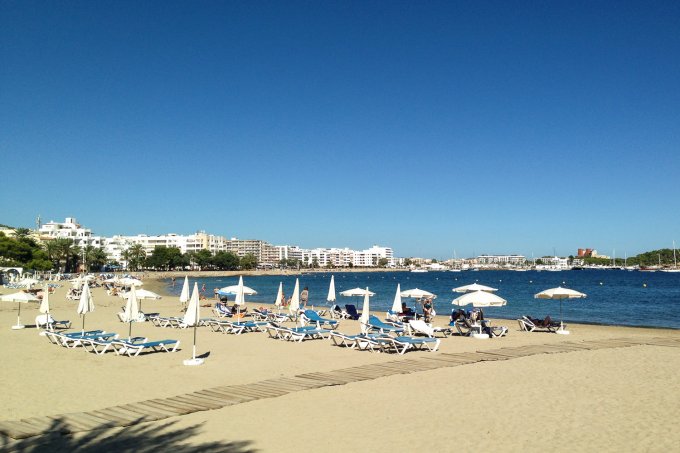 Heading north up the beach, you'll pass by that beautiful Ibiza restaurant Somiart, check out our astonished-and-delighted review here. Perhaps the most romantic spot in town for dinner, the live acrobatic, dance and art performances are stunning.
Once past the fountain, keep a sharp eye out for possibly the best British food on the island, the fantastic, the inimitable Mel's cafe. Hearty, perfectly cooked British favourites with down-to-earth, friendly staff and rapid service. You'd be surprised who you can bump into at Mels, being a firm favourite of many resident celebrities who are partial to a proper BLT, English brekkie or home-cooked pie. Take your pick. The whole menu rocks.
You'll find lots of Brits holidaying here, with a good number of German, .French and Dutch visitors too. There are families dotted around, taking advantage of the immaculate beach, shallow waters and pedalo hire, although it's fair to say that Santa Eulalia's facilities are more geared towards mature families, singles and couples. This Ibiza beach's excellent disabled facilities also make it a popular choice for those with limited mobility.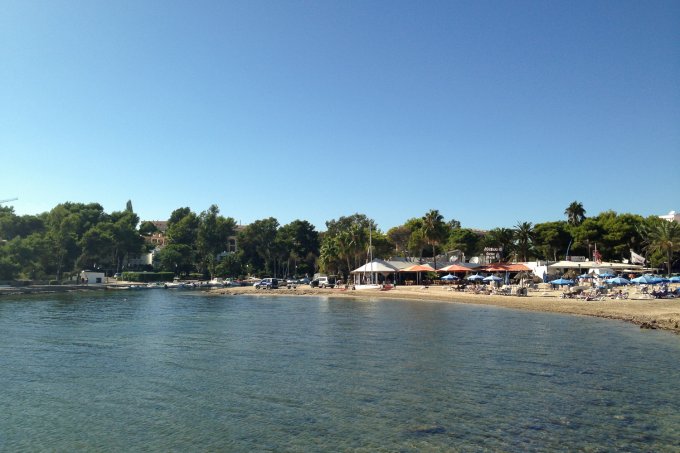 We're over halfway up the beach now, passing the new, pedestrianised Las Ramblas and heading towards the small marina dotted with beautiful sailboats and smaller, luxury yachts. Las Ramblas is THE place to be for people watching by the way if you fancy a short detour. Ibiza Spotlight recommends you grab yourself a table on the terraza at The Royalty (on the corner next to the fountain) and ask the staff about the fascinating history of the place.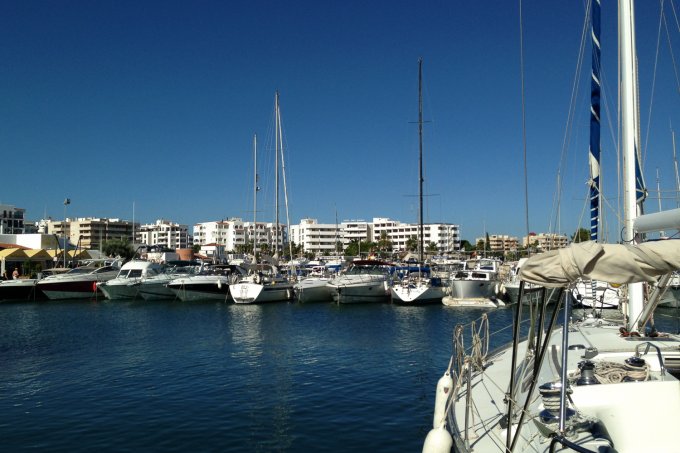 Back at the marina, you can catch a ferry boat from here to lots of beautiful nearby beaches, including those around San Carlos, Cala Llonga, Es Caná and even as far as Ibiza Town.
This part of the promenade offers a wide selection of good-quality restaurants and some great little bars such as the friendly Guarana bar, open in the evenings and often featuring excellent live music performances. Perfect for those tingling with energy at night after all that day-time chilling. And whatever you do, don't miss the opening 'white party' of brand new super-luxury Nikki Beach Club starting at 6pm on Thursday July 3rd. Dress code: strictly white!
Some of the best value hotels with fab offers on the island right now are in Santa Eulalia too. Stand by for separate report on this soon! Of particular note right now is the Azuline Hotel Mediterraneo, who are giving a 20% discount on last minute stays until July 17th. It works out at less than 200 sterling per person, 2 x sharing for a whole week, breakfast included. Just sayin...
There are also lots of astonishingly beautiful villas in the area if you prefer a touch more seclusion with your luxury! Can Genoves for x 10 guests for example, is an exceptional property.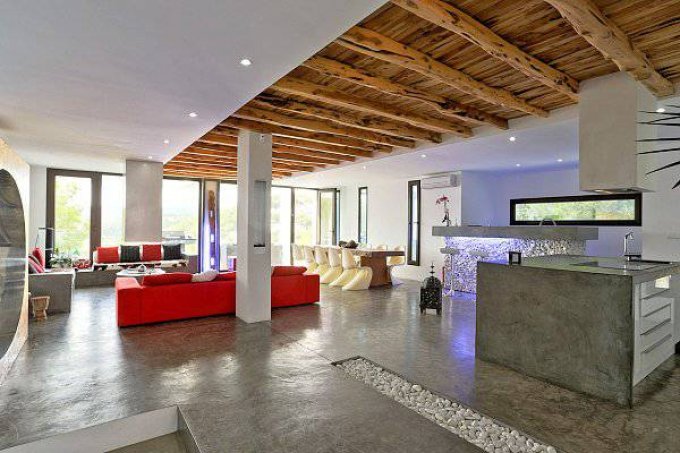 In short ladies and gents, if you like the quieter side of Ibiza, but with endless restaurants, good shopping facilities and great transport links to both the Bohemian north and the cosmopolitan south, then Santa Eulalia may just be your perfect partner! If it's peace and sunshine you seek, bingo! You just hit jackpot.