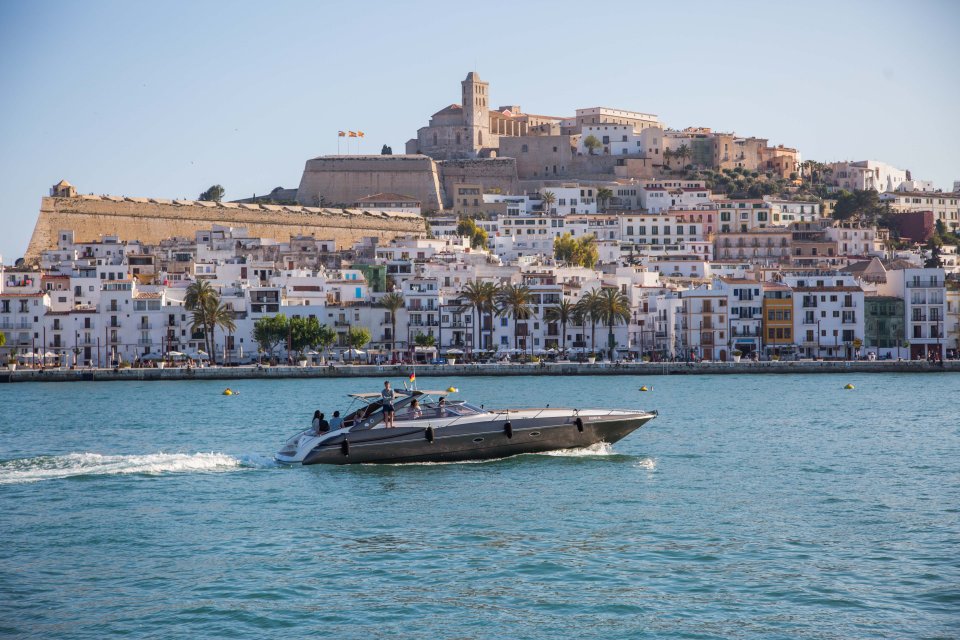 If you can see yourself taking to the spray for a superb day out on the seas around Ibiza on your own boat then you are not alone. The dream of owning your own vessel is one that's shared by many, though most of us don't have the means to purchase and maintain one. The good news is that you don't have to be rolling in money or be one of the super rich to get your own private boat experience. Instead, you can simply charter one for the day complete with your own captain and your laundry list of things you want to do at sea, and this is where Smart Charter Ibiza comes in.
This energetic company offers all kinds of boats from affordable simplicity to full-on luxury. What's great is that all trips can be customised to what you want on the day. You can choose the boat and where you want to go on one of the special trips. You can even let them do the heavy lifting for you on the Skipper's Secrets trip, where the captain will surprise you. On either, you can request where you want to stop: you can discover hidden bays, secluded beaches and secret caves and swim in crystal clear waters away from the crowds.
---
Formentera dreams
The company has grown hugely since it first started taking people around the island with just one boat, only a few years ago. Today, the company has a fleet of 35 boats of all sizes and price levels offering either specially tailored trips or the freedom to choose your own. One of the most successful and well-loved voyages that people ask for again and again is the "Classic" which takes you from Ibiza to Formentera for the day. We took part in a big nine-boat trip to Ibiza's sister island to discover some of the magic of this much-loved excursion.
We arrived in the morning to a slightly cloudy sky, though with the promise of sun later on in the day. After an açai breakfast, we were assigned our boats and proffered champagne before the engine was cranked to speed us along to Formentera. We set of slowly on the Stealth, a boisterous craft with a lot of poke in the engine as Charlie, one of the owners, demonstrated with a spirited dash across the water. All we were left to do was lie in comfort whilst we watched Ibiza Town and the lighthouse disappear quickly behind us.
---
Bye bye clouds
Arriving close to Formentera, the sun made a dramatic appearance with almost zero cloud cover. Hurray! We dropped anchor in front of a small beach and connected all the boats in a long line, like a small fleet so we could walk between them. It bears pointing out, that this was no normal boat trip, being instead a showcase of what the company offers. Of course, if you want to hire nine boats, feel free to recreate this adventure. Mostly though, you'll be hiring just the one boat and it's important to note that chartered boat trips carry a maximum of 12 passengers by law, so if you are coming in a very big group, you might need more than one boat.
All boats come with complementary drinks and snacks and towels and staff are multilingual. You then have plenty of options for eating, from bringing your own to requesting a picnic. If you choose the Formentera trip, you can stop off at one of the restaurants there or have them bring your dishes by dinghy. In all cases, you should always let the Smart Charter Ibiza guys know what you are planning before.
---
Toys for boys…and girls
After lunch, we lazed on the deck, letting our food digest before taking to the water to try out some of the water toys on offer – these are a must try for a proper fun day out. We had a go on a couple of Stand Up Paddles, gently gliding across the surface of the water with the music from the boats pumping out behind us. Then a quick go on a Seabob, which takes you down below the water's surface giving us a birds-eye view of the marine life below. Smart Charter Ibiza offers a variety of water toys like flyboards and jet-ski's and again, it is always worth checking out in advance to see what's on offer.
At the end of our little excursion, we left feeling happy and relaxed, very well looked after and ready for our next brush with the nautical. There really is no finer experience than seeing this part of the Balearics by sea and if it's with Smart Charter Ibiza, you are guaranteed professionalism, no hidden costs and possibly one of your best day's out when coming to this White Isle. Find out for yourself by checking out the information link below.
---
WORDS | Julian Heathcote PHOTOGRAPHY | Smart Charter