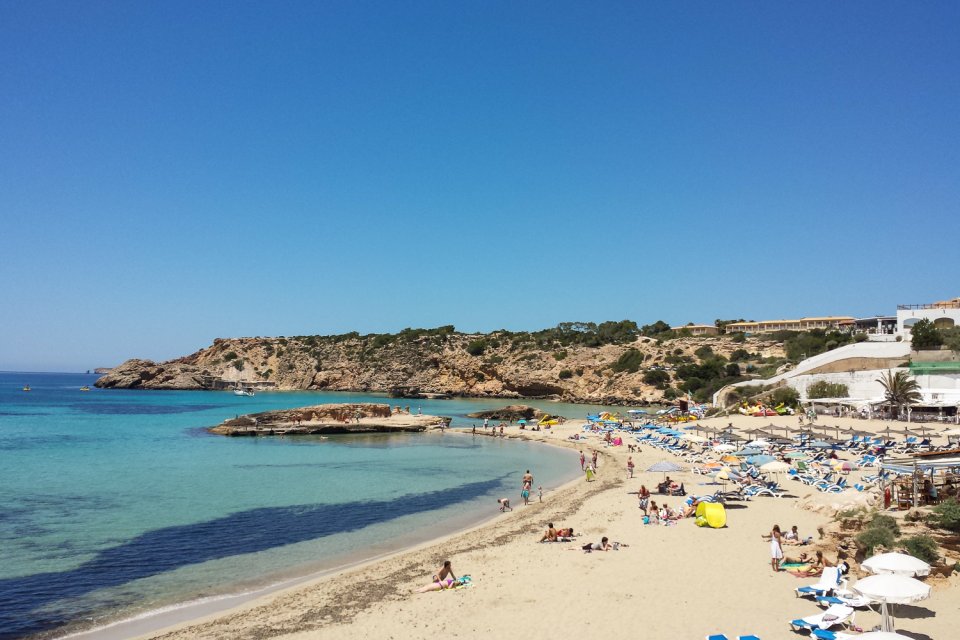 Where and what?
A popular beach in the popular resort of Cala Tarida in the South West of the island; the beach is long and wide with fine white sand with rocky platforms and islets and surrounding trees of sweet-smelling pine. It's a pretty beautiful bit of nature to behold.
---
Why go?
If you want peace and tranquility and a great place for the entire family, this is the place to come. The sun shines from morning to evening, thanks to its south westerly position and if you're here, you'll never miss a sunset. This being a resort, people from the surrounding hotels and apartments will drop down to this beach, so there may be crowds if you go in the middle of the day, but there is space for everyone on this long and wide beach.
---
Things to do
With shallow clear waters to the right, this is a very safe place for kids to mess about in the water. To the left, there's a deeper sea with a lot of more waves. There are many great bars and restaurants, serving Spanish and some local dishes lining the back of the beach; it is also the location of the stylish Cotton Beach Club. Also, you have a supermarket and a few shops if you want a DIY lunch or want to browse for souvenirs. Watersports feature big here with a dedicated diving centre to practise your strokes.
---
How to get there
You can get here by car or on one of the regular summer services from San Antonio, from where you can also catch a ferry to the beach. From San An, count 15 minutes and from Ibiza Town, just over double that.
---
WORDS: Julian Heathcote