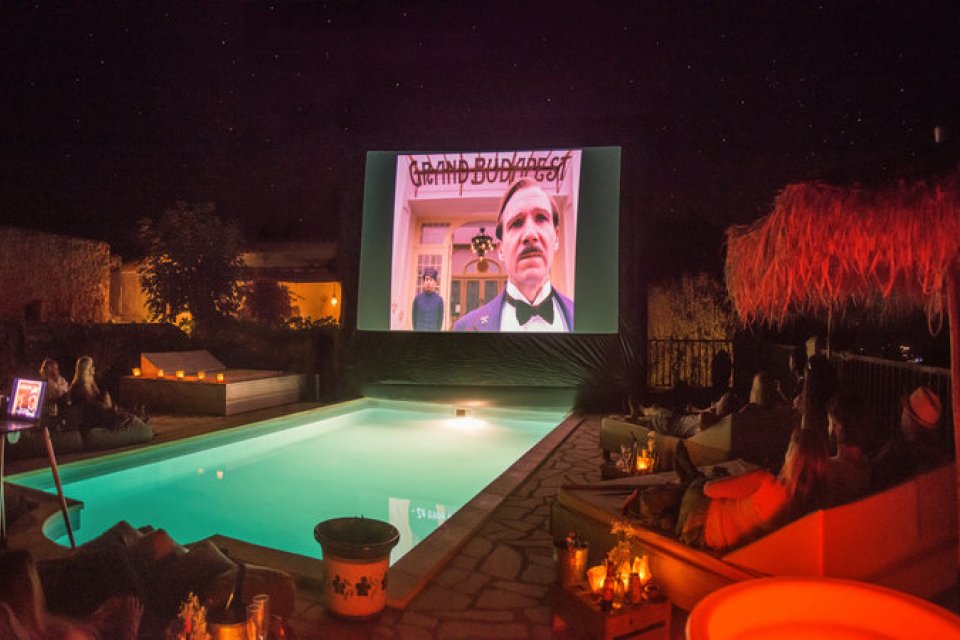 With the 2015 summer closing parties fast approaching, September looks set to be a busy one. But it's not all party-party here in Ibiza, if you want some chill time the Lime in the Coconut outdoor movie company have plenty of laid back, under the stars events to finish off the summer in style.
The popular set up has been bringing amazing outdoor movie settings to us throughout the season. With both public and private outdoor cinema events the fun concept is one of the most talked about on the island, delighting us in June and July with public screenings of The Grand Budapest hotel, Pulp Fiction and Vicky Christina Barcelona as well as many more, at the stunning Amante Beach Club in Cala Llonga. Next on their roster were two family movie nights in July and Aug at Cala Llonga beach. Free to attend, these kid-friendly showings proved a hit, showing The Lego Movie and Paddington. The private movie events have proved a winner too, with clients hiring the unique service for all kinds of events from intimate terrace screenings to kids wedding entertainment.
After a short break the Lime in the Coconut guys were back and had a September line-up not to be missed, returning to their home at the beautiful Amante Beach Club on a weekly basis throughout the month. Showing Whiplash (8th Sept) Kill Bill (15th Sept) Birdman (22nd Sept) Begin Again (29th Sept) and rounding off a successful summer with a showing of Nightcrawler, featuring Jake Gyllenhall on 6th Oct. Set in the Sol D'en Serra bay, listen to the waves crashing on the rocks as you enjoy these blockbuster hits. A 30€ ticket includes individual bean bed, blanket (if needed), popcorn and a glass of Jean Leon wine. Sounds like the perfect night in (or out) to us. Movies kick off at 11pm so why not grab an early evening bite at Amante's popular beachside restaurant before you settle in for movie night.
We were a little disappointed to hear the scheduled 4 screenings in the beautiful Dalt Vila settings had to be cancelled due to Ibiza's storms this weekend but the there are hopes these can be re-arranged before the season is out - we'll keep you posted!
**UPDATE!!**
Saturday 26th September, Baluarte de San Pere, Dalt Vila - Big Eyes
Sunday 27th September, Baluarte de San Pere, Dalt Vila - Prisoner
For more information please click here.
---
WORDS | Lucy Moon