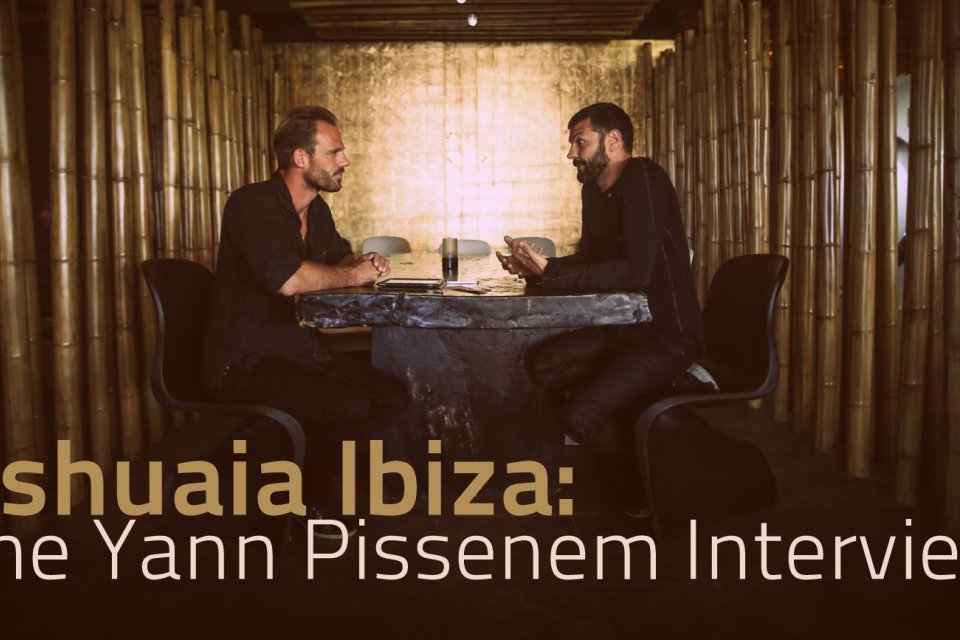 The Playa d'en Bossa hotspot is getting ready for another summer and Ushuaïa is, quite literally, taking things to the next level this year. We met up with the creative mastermind behind everything Ushuaïa, Yann Pissenem, to talk about the club, the Ushuaïa Tower, the 2013 programme, Ibiza in general...and about some small funny animals too!
Hi Yann, nice to finally meet you in real life! To kick things off, what do you think was the main factor that made Ushuaïa such an essential part of Ibiza in just a few short years?
"Hello Stivi! Well, we came with a new concept and we just hit the nail on the head with it, people seemed to be really waiting for this. I don't want to say people were tired of what had been offered in Ibiza, but the crowd certainly embraced what we are offering: open-air clubbing with an immensely big production in terms of show, decorations and wow-effects. In a way a bit like an electronic "cirque du soleil." Then we do our parties daytime, which means we start some time mid-afternoon and our parties run until midnight. This time slot enables people to get up at a decent time in the morning, enjoy the island in all its facettes during the day and party in the evening. So people get to go to the beach, they can enjoy the sun, they get a real connection to the island and also, because our schedule is a bit different, people tend not to go too crazy in terms of alcohol for example. But I think the one main point I also strongly believe in is the open-air factor. I love open-air parties."
What do you think people love most about Ushuaïa?
"Our original idea was to build an amusement park for adults, and I honestly think that the overall concept of daytime open-air clubbing with the world's best artists and a strong focus on a great show, combined with now two hotels, is what people love about us! It's the full Ushuaïa experience that people love."
Let's talk a bit about the programming of Ushuaïa this year. At the start and at the end of the week there are no changes. David Guetta's F*** Me I'm Famous is again on Mondays and Avicii will be back on Sundays. Apart from that quite a lot has changed, so tell us a bit about the Ushuaïa week.
"With pleasure (grins). Right, on Tuesdays Luciano will be back - and with a very strong and special concept. I can't reveal it all yet, but believe me, it's going to be brilliant and there will be stuff happening everywhere!
As you know, the Swedish House Mafia officially split up. So, on Wednesdays, Sebastian Ingrosso and Axwell will present their new party Departures where Alesso also will play a lot of dates.
Thursdays will be all about Loco Dice, our new addition. Used & Abused is again going to be something very interesting, because the party starts very early. This means a complete daytime party experience with long DJ sets of big artists already early in the day and I'm sure the crowd is going to appreciate that a lot."
Ok, but if you start that early, what are you going to do in regards to the mid-summer heat? In July and August, at 3pm, the only place in Ibiza you normally want to be is on the beach so you can cool down...?
"Don't worry, we haven't forgotten about that and we're prepared for any heatwave coming this summer. For the first time ever we're going to partially cover Ushuaïa and like that, we'll provide enough shadow in the afternoon, so it's going to be perfectly enjoyable for everyone. Dice is coming with a lot of big guests and I really think this will be a very, very good party."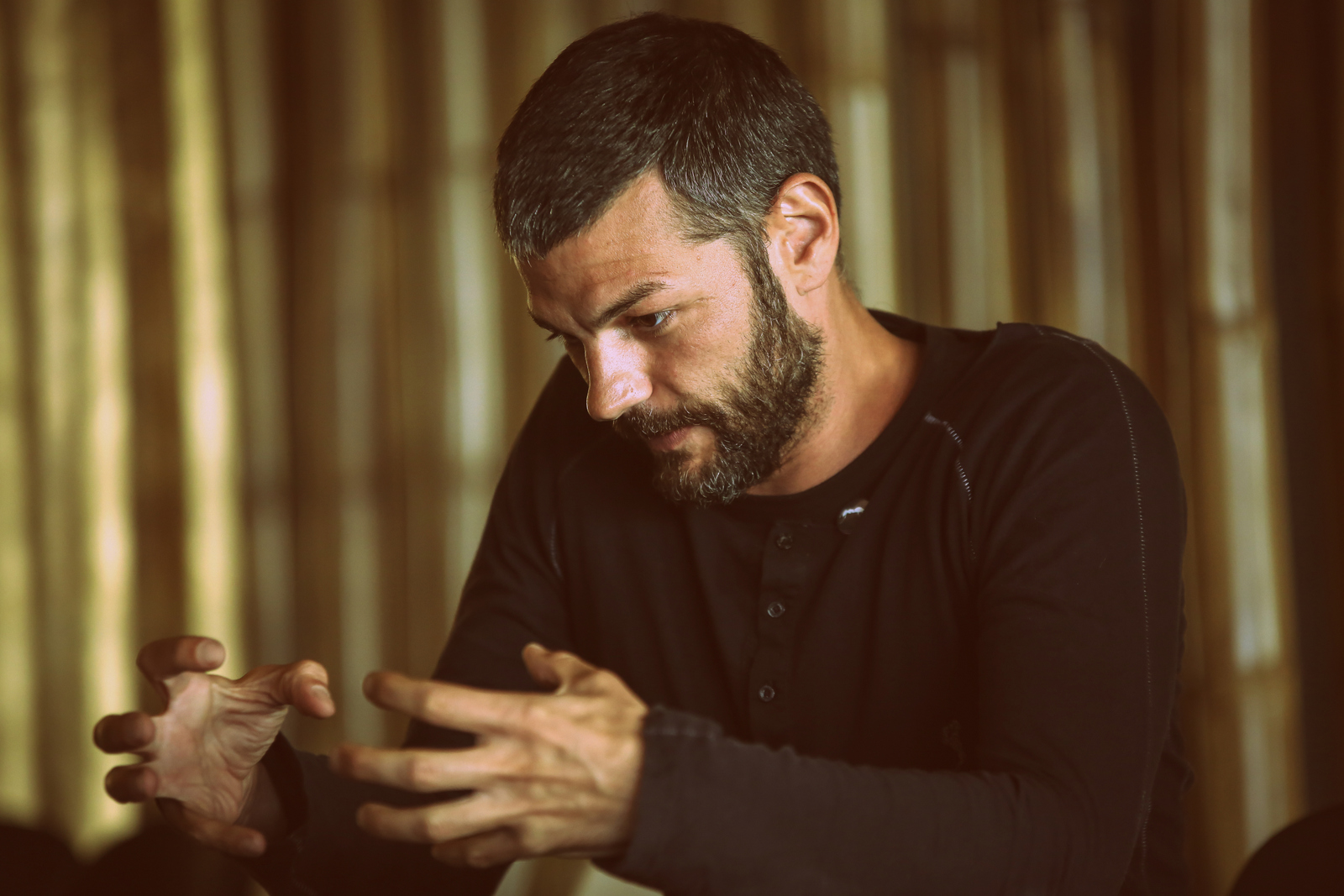 I see, that's great news. Now what about Fridays, Pete Tong is also going to do something special I've heard?
"Absolutely, Pete Tong brings Le Grand Bazaar, which will be a mixture of a lot of styles. This party also starts very early, but in the Ushuaïa beach club this time. We'll have some really good guests already playing early on while people are having lunch. It's a nice combination of music and food and will be open to everyone. Then Pete does his radio show, this will happen either in the beach club or around the small pool inside, and after that, the proper party starts on the big Ushuaïa stage. All the artwork for Le Grand Bazaar will be done by Damien Hirst. Pete's guests cover a lot of different genres of the electronic music world, from Calvin Harris to Hot Natured, Paul Kalkbrenner and Carl Cox, so I think it's gonna be cool."
And then you've got the colony of ants coming in on Saturdays...
"Yeah I love ants and this party will again be something very different! We want to create a really cool underground party and we will run it from the little DJ booth at the back part from Ushuaïa, near the small pool. With Ants, we want to give something back to the island and provide a party for the locals. For example, we'll have wristbands for workers that will give them free entry all summer. In terms of the music, we'll have artists like Deetron, Reboot, Andrea Oliva and Maya Jane Coles playing, just to name a few. Ants will be a full-on daytime rave, from midday to midnight."
That sounds very interesting. Something that I found brilliant last year was the collaboration between ENTER and Cadenza towards the end of the season. Can we expect any link-ups like that this year?
"I can't reveal it all yet, but yes, we will have some different forms of cooperations this summer as well."
Cool. Then let's speak a bit about the Ushuaïa Tower now. When did you hatch the plan for the tower? And was it a difficult or easy road to put that plan in action?
"The idea had been around for a while and was also part of the plans of the Matutes Group. At the very beginning, still at the old Ushuaïa when it was just a beach club, we used to look up to the tower and think "man, imagine if we could do something on the rooftop there." Last year, Ushuaïa had such a fantastic summer and the hotel occupancy was always very high, so we felt it was the right moment to expand and get a bit closer to the idea of that amusement park for adults I mentioned earlier. So from this year onwards, we offer more and we offer things on different levels, too. The Tower will be more of a VIP concept where we have an oyster bar, a Montauk Steakhouse as well as a Champagne and Caviar bar, all offering high-end service and quality.
I'm sure you've seen the plan of excellency of the Matutes Group. You can clearly see they want to improve Playa d'en Bossa, promote the island in general and bring more people to Ibiza. And if we can make the Ibiza season a little longer, then everybody will win.
We've just soft-opened the Tower and the proper opening will be on the 23rd of May. The first party at the Ushuaïa Tower will happen on the 5th of June."
Speaking about parties, basically the parties at the Ushuaïa Tower are happening around the pool and next to the beach. I've also heard it's free entry, but there must be some catch with that...?
"This is correct, it's going to be free entry, which means you can't buy any tickets for the events happening at the Tower, but there will be a very selective door. It is a VIP space and if you want to get in, you'll definitely need to dress cool. Our aim is to have a great crowd that fits the place."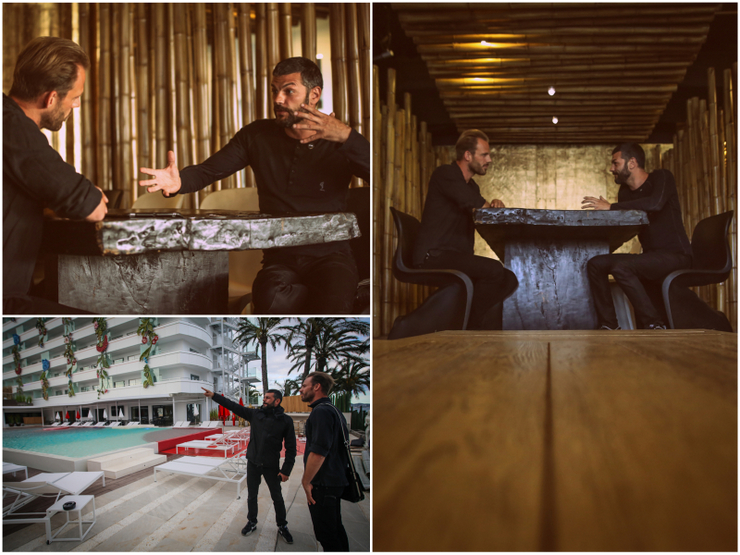 Let's also have a look at the weekly programme of the Tower then.
"Sure! The week starts with Defected (DFTD) on Mondays. Then, on certain Tuesdays in July and August, Reboot will be introducing the Rock 'n Beatz concept at the Tower with live rock musicians. Wednesdays is Jean Claude Ades' Be Crazy, a real social party with great music. On Thursdays we present the NERVO girls again, they had some great gigs with us in the late season last year. Then we've got Louie Vega with Anane on Fridays, on Saturdays we'll have a few parties with Wally Lopez and others with the party label "WE" and to finish off the week in style, Sasha on Sundays. He's going to bring in a lot of unannounced guests, so that's one I'm especially looking forward to."
OK...now what about the rooftop you've been talking about earlier? What's the sketch with the Up Sky then?
"All the clients of the hotel will have access to the rooftop of the Tower as long as their appearance and attitude is ok. Apart from that, we'll do different activities up in the Up Sky Lounge, but it will definitely be more of a private place."
What do you expect from the 2013 Ibiza season?
"Thirteen is my lucky number so I expect a great season (laughs)! No seriously, I feel there is a big buzz about Ibiza this year, the energy is already at a very high stage so early in the season, so I am hoping for a superb summer!"
What do you personally love most about Ibiza?
"I'm just a big fan of the island generally Stivi. I love the nature, so I enjoy taking walks with my dog and I love all the little calas around Ibiza. And then there's this inexplicable energy of the island. I've been travelling a lot and also living in a lot of different places, but when I came to Ibiza for the first time, I instantly felt home. And it's still like that today."
It seems there is a big bunch of people who feel that way, myself included. Thanks for your time Yann. Do you have anything else to add?
"Well, I'm really looking forward to see everyone exploring our new Tower as well as our new parties...Join the Colony!"