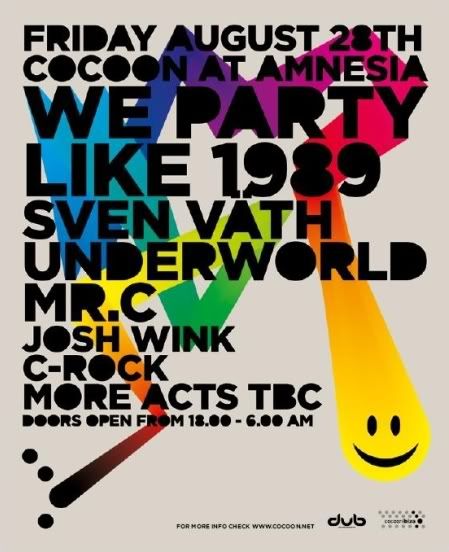 Spotlight: First of all tell us about how the link up with Cocoon came about?
Karl Hyde, Underworld: We've been friends with the Cocoon guys since before they were the cocoon guys! We first met Sven and Matthias Martinsohn when they were the owners of the Omen in Frankfurt and we've been partying with them since then.
You've been involved in some Cocoon events before right?
We played at the first ever Cocoon event ever; it was in a disused industrial complex in Frankfurt with Alter Ego playing their first gig and sven djing all night. It must have been 91/92 but seems like yesterday.
Karl Hyde c.1989
Also, we've played in the Cocoon Club in Frankfurt a couple of times and we've said many times, we'd love to do something with them in Ibiza
And what about the concept of We Party Like 1989, what added spice does that add to the gig?

We wanna try and make the night something special in terms of our performance. We aren't treating this as one of our own gigs or a festival performance, playing in Amnesia with Cocoon is truly unique and we've prepared some extra special moments for the crowd that night. We won't be able to use the normal production that we take with us on our tours but the vibe in Amnesia will more than make up for that if everyone comes to party.
Underworld Live........Somewhere
What memories do you have of dance music culture and clubbing in 1989?
In 1989 we were working hard trying to make dance music rather than being out there at the rave or on the dancefloor. We've always been surrounded by dance people and dance culture though and from what we've heard from Steve Hall and the Junior Boys Own guys, also 1989 was the best opening party of Amnesia ever !
You must have come across Sven Vath a fair few times over the last 20 years…….he's still partying as hard as ever?
Sven is a force of nature. If acid house was a car it would have Sven as the emblem on the bonnet.
Sven Vath c.1989 (bearing an uncanny similarity to Karl Hyde above!!)
What do you know about the massive hype surrounding Cocoon in Ibiza in the last few years and the artists playing there regularly?
Yes, of course we know there is a big hype. Cocoon always has great djs. Richie Hawtin has been around as long as we have and we've played many events with him over the years. Ricardo, we know more for his productions and we've brought loads of them. Loco Dice is quite new to us but we know he's been around and we recently checked him out at an after party when we played Love Family Park. Steve Hall, our manager, rates Cadenza as the best house label around at the moment and Luciano the best dj, so we know loads about him !
Whats the plan for the show? What can we expect to see and hear?
There is no plan, We'll take a look at the crowd, try and judge the vibe and then say fuck it and unleash a full on techno assault ! Expect to see 3 guys beaming from ear to ear.
Underworld Live.....Somewhere Else
The last time Underworld played Ibiza was in 2000, at the Quarry for the MTV Event, how do you look back on your fortunes over the last 10 years?
We try and not look back too much because we always want to be part of what happening now. It's been a fantastic ride so far though and we're just hoping it will continue a bit longer. We want 2010 to be a big year for Underworld.
On that note, can we expect new productions and maybe an album? You've got a new release with Mark Knight coming out called Downpipe, haven't you?
Working with the Toolroom guys has been great. We really wanted some music in the clubs this summer but we've been writing our next album so finishing stuff off hasn't been our main priority. when the chance to work with Mark came along and we jumped at it. The new album will be out in 2010 and we're more excited about it than anything we've done for years. its got a real dance floor energy about it so hopefully you'll be hearing a lot of us in ibiza next summer !
Rick Smith and Karl Hyde