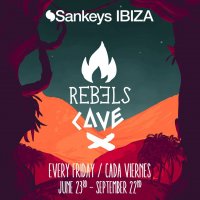 For an original experience, the Rebels Cave is for you. It all started as an underground boat party in 2010, the Capadi Rebels boat party, and continued as one of the few underground ones around. Aiming to create a unique experience, the Capadi Rebels then worked alongside Viva Warriors at Sankeys for three seasons.
After last year's great success at the Spectrum at Sankeys on Sundays, this past summer they landed their own residency on Fridays. As they do, the Capadi Rebels turned the club inside out to surprise, provoke and inspire all rebel clubbers.
Bringing together the underground, wanderlust and spirituality, the Rebels Cave unites people from all over the world to celebrate the connection among us all. To this end, this party features local artists, different musical styles, live performances and other elements of Ibiza's unique magical vibe.
The opening party took place on 23 June and the season ran until 29 September from midnight until late. From 21:00 to 24:00 every Friday, the Sankeys outside terrace also hosted a vegetarian BBQ accompanied by live music, stands of handcrafted items, an interactive art installation and an experience room.
Ibiza residents enjoyed free entrance throughout the summer. For every ticket sold, €1 was donated to a local charity.
Venue: Sankeys