This page hasn't been updated for 2014 yet. Check back soon!
The party with more attitude than a pair of Jimmy Choos on acid. Get barged out of the way by a gaggle of drag queens, get lip glossed by the babe with big boobs stood next to you (what do you mean 'which one?') and prepare for some sexy, snazzy, happy and party vibe house music from DJ Oliver.
Baby Marcelo, of La Troya fame, is the artistic brains behind this party, so expect the usual shenanigans and diva-esque performances from him at this gay-friendly party. The Face Of Ibiza takes place on Tuesdays this year, opening on 25th June and closing on 17th September 2013.
Latest news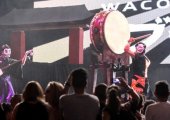 Privilege showmanship interwoven with Japanese artistry and deep beats.