Sankeys closing party falls this year on Wednesday the 8th of October, the last of the superclubs to bang its doors shut for 2014. The party kicks off at 10pm on Wednesday evening and goes on until sometime Thursday morning. Celebrating 20 years of Sankeys Manchester this summer, Sankeys Ibiza will be bringing in a host of great artists to soundtrack the epic closing bash, many of which have helped shaped the sound of the Sankeys season. First wave announcements are in, and include Duke Dumont of Blasé Boys Club, Amine Edge & DANCE of CUFF, Darius Syrossian of Tribal Sessions, Shlomi Aber, DJ Sneak, Sidney Charles, Just Be (Bushwacka!), Jozef K, island representatives Andy Baxter and Manu Gonzalez plus some very special unannounced guests.
Venue: Sankeys, Playa d'en Bossa, Ibiza
Latest news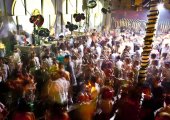 A 32 hour rave for the history books!
2 years ago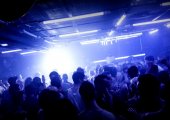 The underground club releases the first part of its 24 hour Closing Party fiesta.
2 years ago