This has not been updated for 2013 yet.
Ibiza Live brings the best from the Urban pop scene to Ibiza this summer. With headlining acts such as Rizzle Kicks, Professor Green, Tinie Tempah, Example, Wretch 32, Labrinth and even the legend that is Rev Run set to perform 2012 looks like the year of the Urban take over.
Ibiza Live will be combining the euphoric Ibizan clubbing experience with live performances from globally renowned acts. This summer will be the first full season that this unique uniting of Urban and the infamous White Isle club scene will be at our fingertips and looking at the success of last years gigs it's going to be a real sell out event.
Joining the fierce line up each week are resident DJ's Andi Durrant from Capital FM and Island favorite Scott Page.
San Antonio's waterfront club Eden will be opening its doors to the Ibiza Live experience every Tuesday from 5th June, closing on the 11th September.
Latest news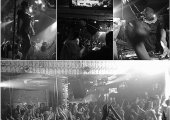 Review: Ibiza Live, 28th August
This week saw the legendary Rev Run of Run DMC take over San Antonio's water-front club Eden...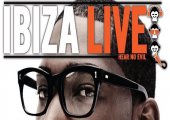 Review: Ibiza Live at Eden, 19th June 2012
Tinie Tempah, the UK's biggest urban artist returns to Eden...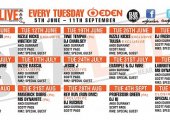 Preview: Ibiza Live 2012
If you love festivals and you love Ibiza then you will definitely want to party with Ibiza Live this summer.