Monsieur Guetta has confirmed he will be back for another year at Ushuaïa!
The insanely successful F**K Me I'm Famous poolside party was one of the most popular events of last season so it's no surprise David and Cathy are bringing their spectacular stage production back for another round.
From Monday the 1st of July you can enjoy the lavish aural and visual celebration that both Ushuaïa and FMIF are known for, returning every week until the 26th of August. La fête begins at 5pm and runs until midnight, and the Frenchman is sure to cause roadblocks in Playa d'en Bossa.  On se voit là-bas!
Parties
F*** Me I'm Famous at Ushuaïa Opening Party

01 Jul from 17:00

F*** Me I'm Famous at Ushuaïa

08 Jul from 17:00

F*** Me I'm Famous at Ushuaïa

15 Jul from 17:00

F*** Me I'm Famous at Ushuaïa

22 Jul from 17:00

F*** Me I'm Famous at Ushuaïa

29 Jul from 17:00

F*** Me I'm Famous at Ushuaïa

05 Aug from 17:00

F*** Me I'm Famous at Ushuaïa

12 Aug from 17:00

F*** Me I'm Famous at Ushuaïa

19 Aug from 17:00

F*** Me I'm Famous at Ushuaïa Closing Party

26 Aug from 17:00
Latest news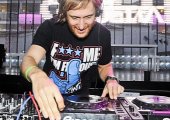 Just Announced: FMIF at Ushuaia 2012
One dose of David Guetta each week is simply not enough so lucky for us the French music man has bag