La Marina Hostel - This hostel may be one of the most historic in all Ibiza but it has certainly moved with the times to provide great accommodation for free-spirited, independent travellers. Small, friendly and with a quirky, individual style, it has  a really good bar and restaurant favoured by local folks and visitors alike.
The rooms, situated in 4 different locations in the town centre, are eclectically styled with a bright, Bohemian feel, perfect for Ibiza and as far away from a package tour hotel as you can get!
La Marina Hostel itself is right by Ibiza Marina with superb views of the giant ferries and megayachts of the rich and famous. There's a buzzing atmosphere all around by night as the area is alive with neon-lit bars, restaurants, the hippy market and the famous club parades. Just metres away, the all night disco bus leaves for all the island's clubs and there's a little ferry to Talamanca beach throughout the day.
Hotel Facilities
Reception -
Wi-Fi internet - in La Marina
Restaurant - in La Marina
Bar - in La Marina
Additional info - each of the 4 buildings is located in the centre of Ibiza Town; details on price page
Rooms
Bathroom
Air-conditioning - in La Marina and La Aduana
Wi-Fi internet - in La Marina (free of charge)
Safety deposit box - in La Marina (extra charge)
TV - in La Marina, La Aduana, Ebusitana
1
Bed linen and bath towels provided
Similar Hotels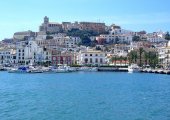 Ibiza Town (Eivissa)
Centrally located in the heart of Ibiza town with all its attractions – shops, bars, restaurants...